Power of moisture
Keep moisture in your skin like a Jojoba plant
Jojoba plants know how to deal with dryness: Originally, the evergreen shrubs come from the American Sonora Desert. The jojoba plants Simmondsia chinensis, which grow up to 3m, like dry and desert-like regions of the world. They manage with very little water and protect their leaves from water loss with a waxy layer, a barrier against evaporation. Their fruits, Jojoba seed, are the raw material from which jojoba oil is produced. These are protected from dryness, oxidation and UV light by their special composition. And these very properties are all reflected in the jojoba oil.
Jojoba oil is not an oil, it is actually a wax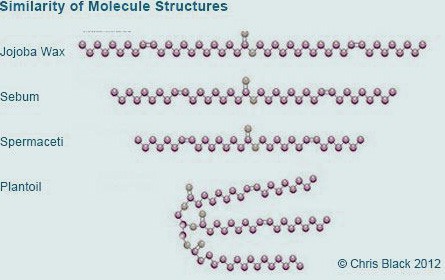 Wait a second! Even when everyone talks about jojoba oil, it is actually a vegetable liquid wax. This is exactly what makes jojoba oil so special and distinguishes it from other natural oils: the chemical structure is that of a liquid wax and consists of 97% wax esters. This is also the case with the high proportion of gadoleic acid contained in jojoba oil, the precious omega-9 fatty acid is present as wax ester. An extra bonus: Jojoba oil does not need any stabilizer or preservatives and has a long shelf life.
Moisturized skin by biomimetic care
The wax esters that characterise jojoba oil are similar to the lipid film of human skin. So jojoba oil has a biomimetic effect and blends with the skin's sebum. In this way the skin is effectively protected against moisture loss: The skin's own enzymes can only slowly metabolise the jojoba oil on the skin, so that the stratum corneum is kept from losing moisture for a longer time.
This is why the now banned sperm whale oil, which used to be extracted from sperm whales, was so popular for skin care – it has similar properties to jojoba oil. Jojoba oil is a great replacement for sperm whale oil. The use of jojoba oil saves the lives of the whales, INCA OIL is closely associated with WDC.
Also exciting: Jojoba oil is able to keep in check skin bacteria, which can lead to blemished skin. These microorganisms cannot metabolise the jojoba oil and so their growth can be diminished.
Besides the wax esters, jojoba oil is rich in phytosterols and tocopherol, which have an antioxidant effect and reduce inflammations. Our jojoba oil has a vitamin E content of 11 to 13 mg/kg.
Beauty Insights: Trend Skinimalism
Minimalism has arrived not only in the interior design or fashion world, but also in the beauty sector. This means that many consumers are looking for more multifunctional products that can be used for face, body and hair care – so there are less products around in the bathroom.
Trend research institutes call this trend "skin minimalism": the skin care routine is limited to the most essential products. Sustainability is closely connected to this lifestyle in order to save resources.
Minimalist formulations of cosmetic products are gaining more and more popularity. The INCI declaration is consequently shorter, which is also an advantage for people with allergies. Nourishing vegetable oils play an important role as all-rounders.
Jojoba oil is particularly interesting for minimalist skincare because thanks to its specific composition it requires less preservative additives and also stabilises other vegetable oils. Multifunctional in use, it offers protection against moisture loss for skin and hair – an essential element of any care routine.
Jojoba oil is perfect for your cosmetics
Jojoba oil feels light weight and non-greasy on the skin. As a liquid wax, it retains moisture in the skin. This provides more elasticity and at the same time offers a tad of UV protection for the skin.
Dry and dehydrated skin enjoys the biomimetic care of jojoba oil in moisturisers, but also in hydrating scalp care.
As jojoba oil spreads relatively slowly, it is suitable for eye creams and make-up removal products that hardly gets into the eyes.
Blemished and combination skin can be balanced by moisturising fluids containing jojoba oil.
Mature skin benefits from the phytosterols and vitamin E contained in jojoba oil. It also acts as a carrier for other active ingredients.
The non-greasy jojoba oil can excellently be used in hair oils, conditioners and hair treatments.
Jojoba oil is suitable as a base oil for natural fragrances.
Jojoba oil is great for sun protection and after sun products thanks to its naturally inherent SPF 4.